Our typical investment term is three to five years. However, there are circumstances that might accelerate or delay the business plan. For instance, we could be approached by a buyer with an unsolicited offer that is so good we meet our business objectives early. Or, the market conditions are not favorable toward the end of the hold period, and thus we would delay the sale until conditions change.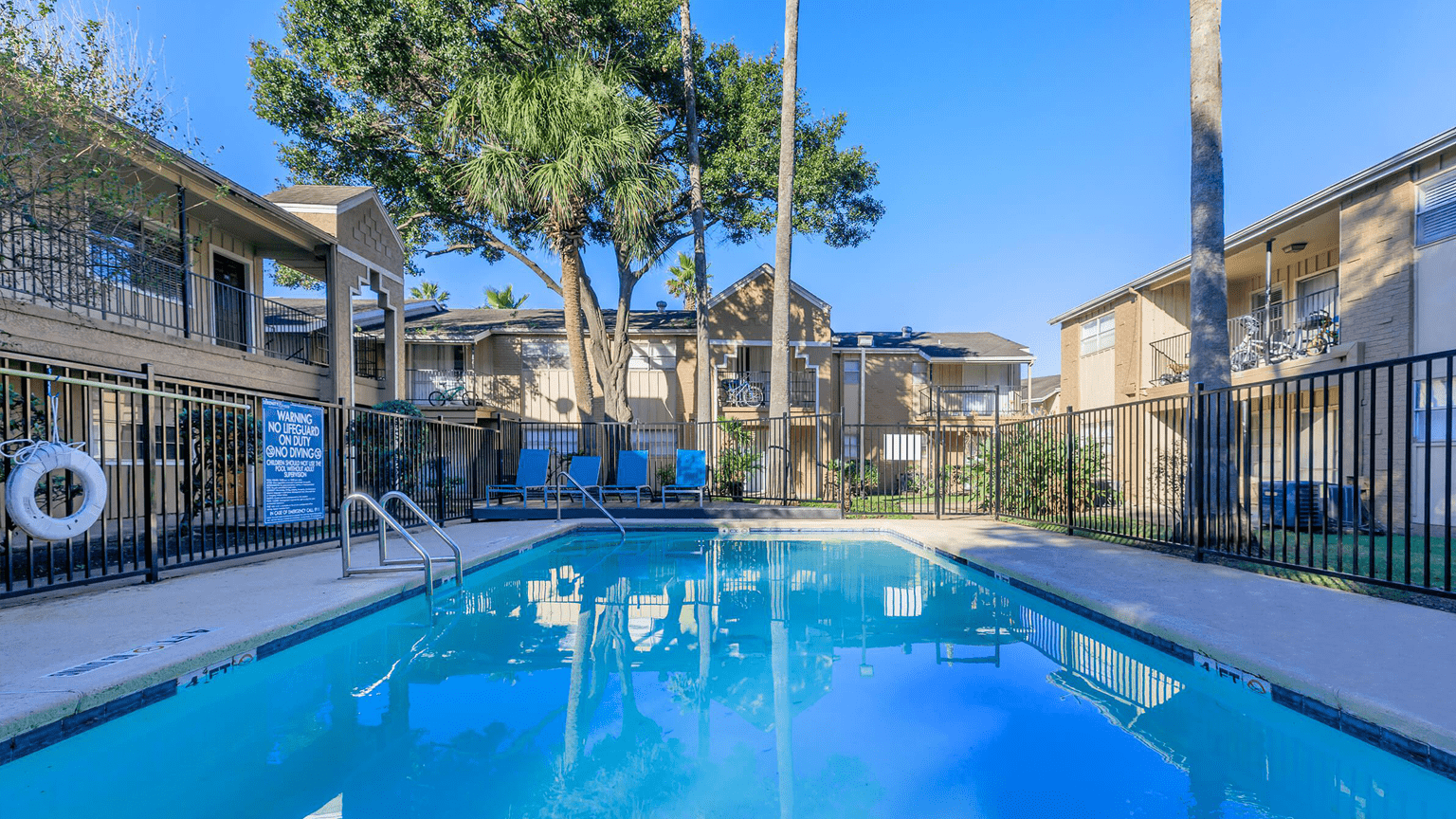 UNITS362
PURCHASED$49,100,000
OCCUPANCY95%
Aura Galleria
Houston

-

Texas

The property, Aura Galleria, is centrally located within the Galleria area, two blocks off of the Southwest freeway, Houston's principal center-city highway artery. Yet it is tucked away on a residential block, just around the corner from popular and upscale nightlife and entertainment options. Aura Galleria is situated within an area with high quality, good paying employers, including Enbridge, BHP Billion, Landry's INC., BBVA Compass, Apache Corp. All told, there are 20,000 businesses and over 179,000 jobs within 3 miles.

Aura Galleria boast an attractive unit mix, allowing residents to grow with us as their needs change - from one-bedroom apartments through spacious townhomes and three-bedroom apartments for families. Aura will be managed by Peacock Investments, LLC the management affiliate of Peacock Investments Group, which manages thousands of units in the Houston Metro.
UNITS168
PURCHASED$12,300,000
OCCUPANCY
Arlington West & Pecan Grove
Greenville

-

North Carolina

Peacock Investments Group LLC is seeking to acquire Arlington West & Pecan Grove Apartments (Arlington West), a 168-unit contiguous apartment portfolio located in Greenville, NC. The property was built in 1986 (Pecan Grove) and 1996(Arlington West) is spread across 8.14 acres of land.

This property is a new multifamily investment opportunity executing value-add renovations in Greenville. North Carolinas continued population growth and Greenville's strong economy (3.4 % unemployment) prove an excellent macro-economic environment.

Located 85 miles east of Raleigh and 41 miles east of Interstate 95, Greenville is the economic center of eastern North Carolina. It has a diverse economy that includes education, health care, and government institutions, as well as large employers in the biotech / pharmaceutical, tobacco, and aquatic industries. A new 12.4-mile highway project southwest of Greenville connects US 264 (soon to be Interstate 587) at Stantonsburg Road to US 11 south of Ayden, NC, adding to the region's connectivity.
UNITS45
PURCHASED$11,250,000
OCCUPANCY
Terra Villa Parks
Winter Springs

-

Florida

Acquisition of Tuskawilla Park (to be rebranded as Terra Villa Park) by investors.

Tuskawilla Park Apartments is a mixed-use property located at the corner of Winter Springs Town Center in Winter Springs, FL. The property includes 45 total units comprised of 41 multifamily units and 4 commercial units. The property was constructed in 2009 and is comprised of two, 3 & 4 story buildings. The community features a diverse unit mix which includes 1, 2, & 3 bedroom units with spacious floor plans. Tuskawilla Park Apartments covers 1.57 acres and the 2 buildings make up 49,780 gross square feet.

Residents are within steps of dozens of retailers in Winter Springs Town Center; a 118,000 square foot retail plaza. Nearby retailers include: Publix Supermarket, Starbucks, Care Now Urgent Care, Tijuana Flats and Quest Diagnostics. Tuskawilla Park Apartments are also located 0.5 miles from Winter Springs High School, a top-rated education facility.

In addition to convenient retailers, residents at Tuskawilla Park Apartments enjoy a variety of amenities. Community amenities include a full service fitness center, secured, gated access parking areas, a pet park, digital key fob building access, elevator access, and paved walking areas with gardens, fountains, and lush landscaping. Unit upgrades include granite counters, stainless steel appliances, gas ranges, 9 & 12 foot ceilings, full size washers & dryers, modern lighting, security systems, tiled floors, and balconies.

An investor could look to add additional value to the community through a light renovation strategy. Unit upgrades could include adding tiled backsplashes, smart door locks, smart thermostats and USB outlets. The current leasing office also offers the space and opportunity to construct an additional amenity area such as a business center, resident clubhouse, media room, or an outdoor barbecue area.

Tuskawilla Park Apartments offers an investor the opportunity to acquire a well maintained asset with historically strong occupancy and within walking distance to national retailers. The property has proven value-add potential with the ability to upgrade unit interiors and community amenities to create the ideal multifamily investment in the current and future market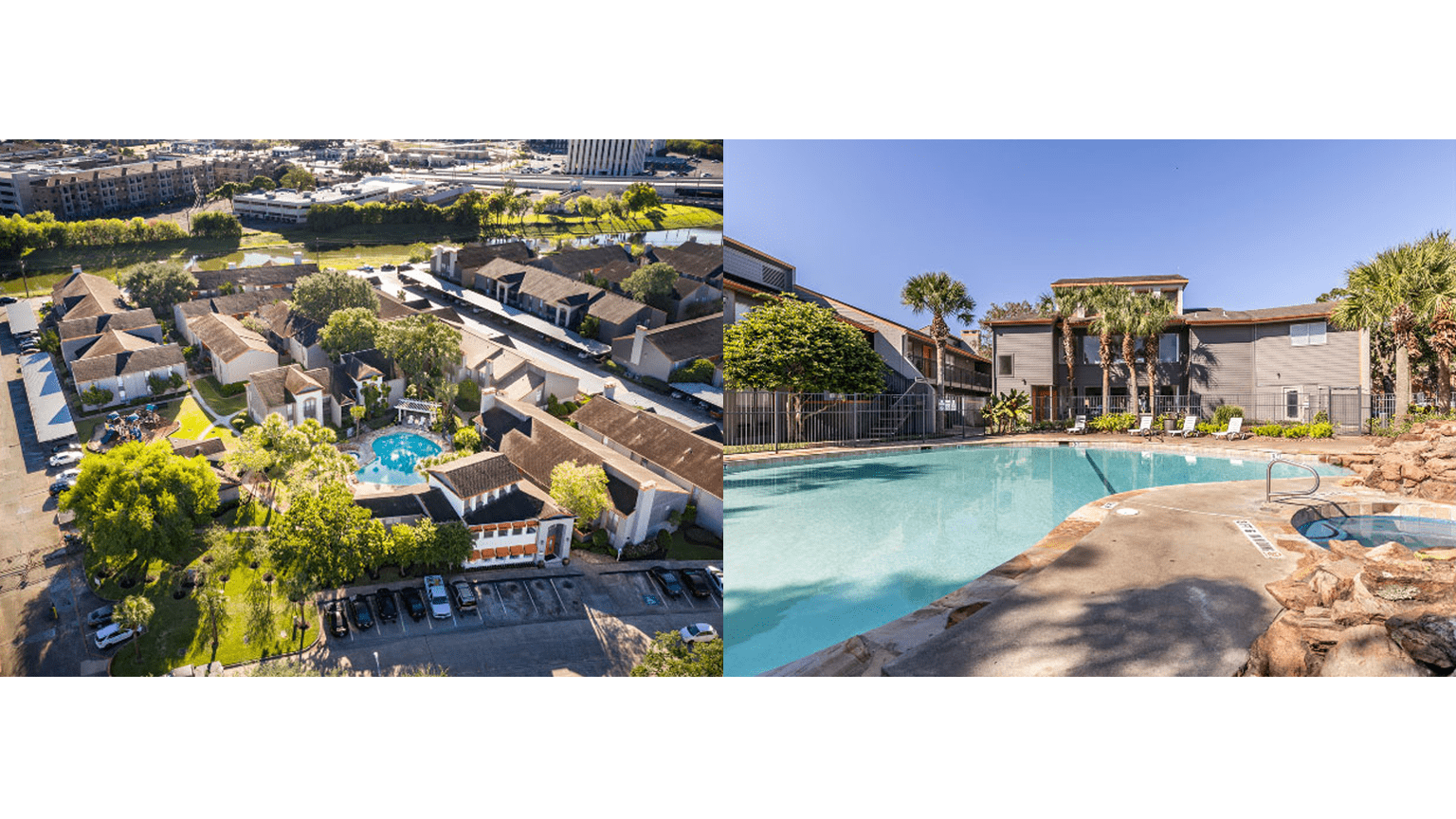 UNITS449
PURCHASED$49,100,000
OCCUPANCY90.4%
Skylar Pointe Apartments
Clear Lake City

-

Texas

Skylar Pointe Apartments has 449-unit, value-add opportunity under contract in the Clear Lake Area in the southeastern suburbs of Houston. The asset is in fair condition in an A area and is overdue for upgrades and improvement. Current rental rates are 18% below those of all neighboring competitors.

Property Class: Exterior condition is presently a B with C+ to B- Interiors. Once upgraded, stabilized and well-managed it should be a B+ in an A area. Similar properties in the area are already selling for more than we are paying.


Exterior Shell: Pitched shingle roofs – approximately 85% will need to be replaced over the next 5 years, about 15% are relatively new. Siding is in good condition with recent wood and paint work.

Property Grounds: Landscaping suffered less than most during the recent historic freeze. Extensive concrete work was completed recently. Some fencing around sides and back has been replaced with new iron. More fencing is scheduled for replacement.

Location: Centrally located in the Clear Lake area and readily accessible, but on a quiet street. Walk Score® is a relatively high 69. Visibility from the nearby highway is fair and will be enhanced with flags and signage.

Interior Condition: 27 Units have been nominally upgraded and have garnered $100 plus rent bumps. All units have been retrofitted with washer and dryer connections. Adding vent fans in the bathrooms will improve moisture management.

Branding: Signage, paint colors and office decor have been professionally designed and coordinated to present a unified and pleasing image.
error:
Content is protected !!